Along with Apple's March 21 event approaching, rumors also more up. Last week we reported the suspected iPhone 7 will feature with dual-camera, today the argument is further confirmed.
An alleged photo of iPhone 7 Plus the larger sibling of iPhone 7 was leaked all over internet. The leaked photo shows the rearranged antenna lines, which helps in concealing the antenna bands better and gives the back a very clean look. The image also highlights a dual-camera system on the back, and another interesting addition – Smart Connector.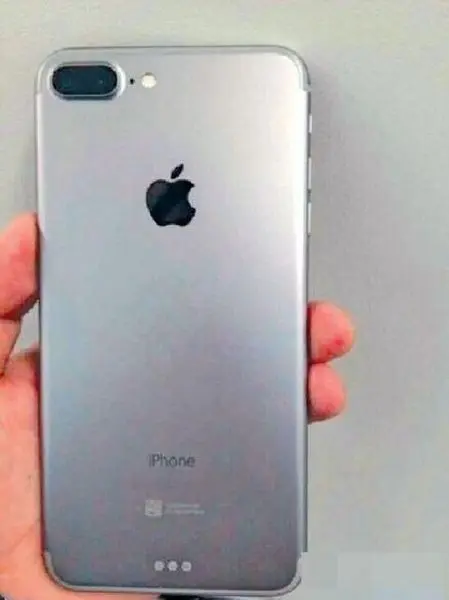 View from the leaked photos, the dual-lens camera is accompanied by a microphone and an LED flash, as seen on previous iPhones, while the antenna bands have been repositioned along the top and bottom edges of the smartphone.
But unfortunately, we can see from the photo that the dual camera system still outstanding, at least would be on the iPhone 7 Plus model, dual cameras are wrapped by a "Pill-like" structure, which also implies that Apple will use two separate circular aperture for the lens
As Smart Connector is even more interesting, the current Smart Connector appears only on the iPad Pro, which allows users to connect to the Smart Keyboard to iPad Pro. It is not clear what the Smart Connector can be used on the iPhone. Based on the above spy, a company called "Feld & Volk" is released the latest iPhone 7 renderings.
Even though the new image doesn't show the bottom of the handset, Apple is planning to drop the ubiquitous 3.5mm headphone jack and require Lightning or Bluetooth headphones.
Other reports have also indicated that the devices will be both dustproof and waterproof. The larger "iPhone 7 Plus" might also be offered with a 256GB storage option – double the current 128GB edition.
Analysis based on available infos, Apple's future devices will probably with the following specifications
iPhone SE – Touch ID, Apple Pay but no 3D Touch or OIS camera
iPhone 7 – Touch ID, Apple Pay, 3D Touch, possible OIS camera (not in iPhone 6S)
iPhone 7 Plus – Touch ID, Apple Pay, 3D Touch, OIS but no dual lens camera
iPhone 7 Pro – Touch ID, Apple Pay, 3D Touch, OIS dual lens camera