Apple enhanced the camera ability on the iPhone 6s and 6s Plus, not just hardware, they also added a lot of new features, such as the vibrant Live Photos feature, which brings your photos to life by capturing small snippets (1.5 seconds) of video right before and after you take a photo. Then you can view the Live Photos your captured in Photos app by activating 3D Touch.
However, Live Photos is an exclusive feature only available on iPhone 6s and 6s Plus. So if you want to try this new feature on some older devices, then you had to install a new released jailbreak tweak "PhotosLive" on iOS 8.4 and lower.
Just like the official Live Photos feature, the PhotosLive tweak integrates with the stock Camera and Photos apps. The tweak can also be turned on or off right from the Camera by tapping on the dedicated button. Again, just like Apple's implementation on the 6s, the tweak also shows a 'Live' indicator when the mode is turned on.
How to Install Live Photos feature on Non-support devices
PhotosLive tweak now available at Cydia BigBoss repo for $1.99, just launch Cydia Store on your jailbroken device for installing.
When you install PhotosLive, you'll need to open up the pop up box that first appears after reboot to download the license. Once you do, you can begin using the tweak.
After installation completed, you don't necessarily have to mess with any of the settings, but you'll find options for toggling PhotosLive in its control panel, enabling a Retina Flash-inspired front facing flash, and additional miscellaneous settings. You can also adjust the video capture duration of PhotosLive.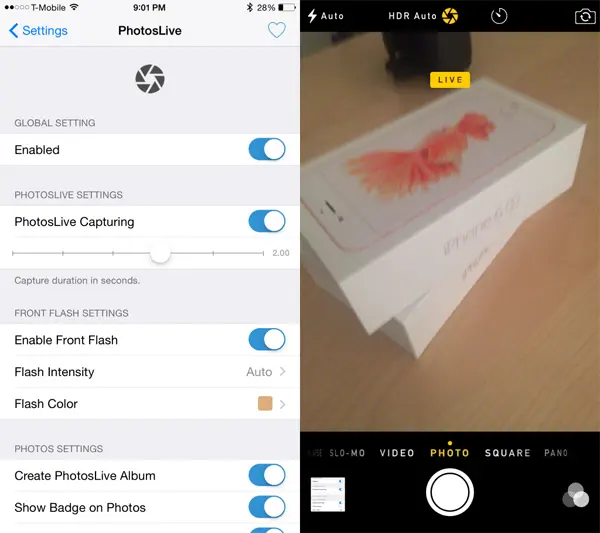 How to Use Photolive
To use PhotosLive, open the stock Camera app, and ensure that the PhotosLive toggle is enabled. Once it is, take a photo, and PhotosLive will automatically capture additional photos needed to provide you with an animated live photo.
Since older devices do not have the 3D Touch functionality of the new iPhones, users can view their live photos by tapping and holding on them. You can sync these 'live' photos with your computer, delete them and then copy back to your iPhone, and the live data will still be intact. You can also export live photos as GIFs.
You can even set Live Photos taken from PhotosLive tweak as your lockscreen wallpaper and animate them by long pressing on them.