iOS code tends to give people some hints about Apple's future system or product, iOS 9.3 not only brings a host of new features, and gave us a lot of surprises and unexpected things.
After digging through iOS code and discovering references to experimental networking protocol Li-Fi. Recently, iOS hacker and jailbreak developer Chris Fromme got a new discovery in iOS 9.3 beta 1.1, he believed part of the code has proven that the next generation iPhone's headphone jack will be canceled by Apple.
Chris Fromme found this string of code yesterday, and noted that these codes can be found in iOS 9.3 beta 1.1 file: /System/Library/Caches/com.apple.dyld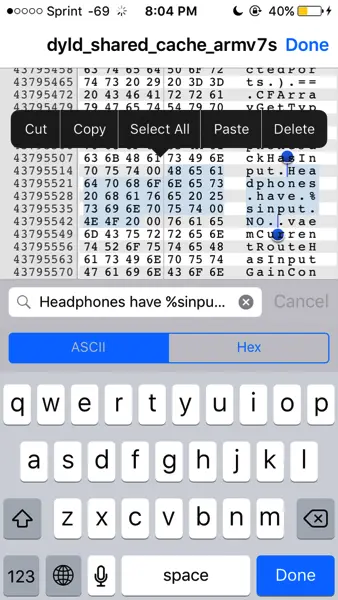 Recently there are many rumors that Apple will cancel 3.5mm headphone jack on iPhone 7 and iPhone 5SE, so that the body become more thin, even with better water resistance, as well as support for wireless charging. The current Lightning interface will become a multi-card interface acts as charging, data synchronization and headphone jack.
While it's easy to jump the gun, reference to this code does not mean the headphone jack will be gone in the next iPhone. We'll wait for case makers and shell leaks to see if any visual proof may be available.
As expected, some Apple users are unhappy at the thought of the standard headphone jack disappearing in the next iPhone. An online petition started a while back has already surpassed 288,000 signatures.