Apple Watch as the most popular wearable smart device has been welcomed by many iPhone users, this is not only due to its exquisite appearance, more important is that its fully features can be applied with multiple life scenarios, which greatly facilitates the people's life.
Apple attach equal importance the watchOS update, likes other products, the company has brought the second major update to Apple Watch this week. New watchOS 2 come with some of the major new features and improvements such as new watch faces, Time Travel, ability for apps to run natively on the Apple Watch, a new Nightstand mode, third-party complications, ability to take FaceTime audio calls and lots more.
Below are several new features you may not know yet.
New Features
Nightstand Mode
Nightstand mode turns your Watch into a handy alarm clock. When charging, the Watch will rotate the Watch face so it displays horizontally. In this mode, the Digital Crown also turns into a snooze button and the side button can be used to turn off alarms.
Digital Touch
Digital touch allows you to send tiny sketches to your contacts who also have an Apple Watch. Starting with watchOS 2, you'll be able to select and use different colors for the image you are creating.
Apple Pay and Wallet
Apple is rebranding Apple Pay on iOS, trading in the Passbook app for a new Wallet app. These changes will be ported to Watch, with support for additional credit cards as well as loyalty cards on the wrist-worn device.
Activation Lock
Apple is bringing its popular iPhone anti-theft feature to the Apple Watch. You'll just need your iCloud credentials to setup the feature on your Watch.
Email Replies
One small but convenient feature in watchOS 2 is the ability to reply to an email. Similar to the messaging app, Watch owners can use Siri dictation, emojis and pre-configured smart responses in their response. In the original watchOS, owners could only view emails and not respond to them.
Face Time Audio
Starting in watchOS 2, Watch owners will be able to make and receive Face Time audio calls using the Watch device.
Videos
The screen may be tiny, but that isn't stopping Apple from bringing videos to the Watch wearable. With watchOS 2, you'll be able to view short-form videos like those on Vine. Though small, the quality should be good thanks to the Watch's OLED display.
Siri
Siri will get a few more commands in watchOS 2. You'll be able to start a workout by saying "Hey Siri start a 20 minute run" and pull up glances by asking for them by name. You'll be able to use Siri to summon transit directions as well as control HomeKit devices.
Friends
The "Friends" feature of the Apple Watch is useful for quickly sending a message to another user. Starting with watchOS 2, you'll be able to add more than 12 friends to your inner circle. You also will be able to organize them into different sets for ease of use.
Transit Directions
Transit directions are coming to iOS 9 and that feature is being extended to the Watch, too. With a flick of the wrist, you'll be able to view detailed public transit routes as well as find walking directions to the nearest transit hub.
Time Travel
Apple introduced a new time-based feature that allows you to view events in the upcoming 72 hours. Using the Digital Crown, Watch owners can turn the crown and skip either ahead in their schedule to see what they have for future plans or turn back to what has been completed.
New Watch faces
In watchOS, Apple is expanding the number of available Watch faces, including an update to the original modular face and a new Time Lapse faces that display a short time-lapse video from major cities worldwide that correspond to the time of day. There's also new Photo watch face the lets you use photos from your an album with a new photo appearing every time you raise your wrist.
Third-Party app access to Watch hardware
App developers now have access to a variety of hardware parameters on the Watch device including the device's built-in microphone and speakers, heart rate sensor, Digital Crown, Taptic Engine, accelerometer and more. Developers can move beyond writing apps that are extension to an iPhone app and create a new category apps that fully utilize the unique information provided the watch.
Third Party Complications
Complications get a significant boost in watchOS 2 with greater customization and support for information from third-party apps. Forget being limited to a handful of basic PIM options, you now can display sports scores, flight times, HomeKit device data and more.
A full change log can be seen below:
Download and Install New Firmware
To install the watchOS 2 update, you need to prepare your paired iPhone and make sure the Apple Watch is in the range, connected to the charger and charged at least 50%. Please note that the installation process could take 20- 30 minutes.
To update to the latest software, all you have to do is open the Apple Watch application on your iOS 9 iPhone, and go to the General > Software Update option to find the update waiting for you. It may take a while to download the firmware, but it will be installed your Apple Watch wirelessly.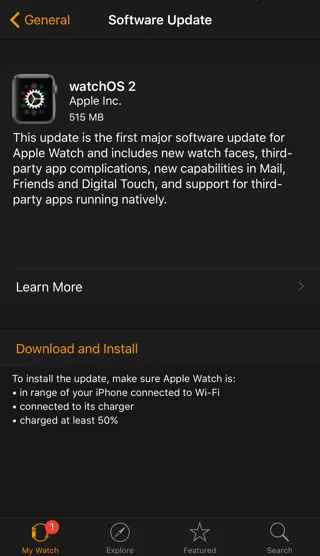 That's it, your Apple Watch should be updated with watchOS 2 once the installation process completed. Let me know how it goes in the comments and please don't forget to share your thoughts on watchOS 2.