A beautiful screensaver on Mac also is a manifestation of personal taste, the beautiful Landscape is the preferred course, it allows people to have a sense of return to nature, however, the default screen saver in Mac too monotonous, if you intend to replace an awesome screensaver on Macbook, and with animated effects, then try the hypnotic timelapse screensavers build-in Apple TV 4.
Apple TV 4 comes with an awesome hypnotic timelapse screensaver called 'Aerial' which is an exclusive set of slow-moving HD video of various landmarks and places around the world, include imagery from China, San Francisco, Hawaii, New York City and London. Now you can get and set them on your Mac's screensaver instead through some simple settings.
Just download the Aerial Screen Saver for free from Coates' Github repo. Once you've installed it, you can open up the settings in System Preferences and choose any (or all) of the available video streams from Apple.
How to Set Aerial as Your Mac Screen Saver
Open System Preferences -> Desktop & Screen Saver -> Screen Saver
Choose Aerial and click on Screen Saver Options to select your settings.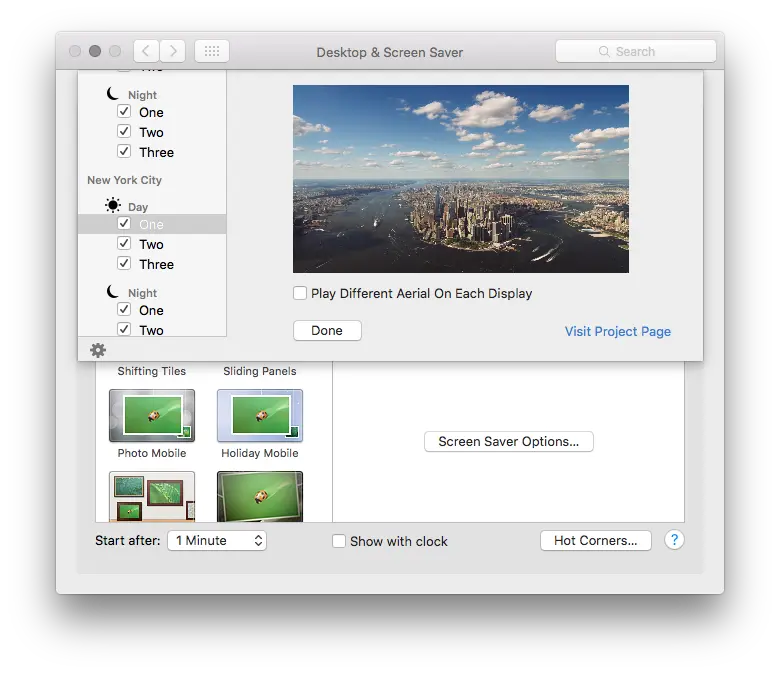 Aerial screensaver supports caching and offline mode, if you'd like the videos to be saved as they are viewed to minimize bandwidth concerns and enable offline mode.