Currently, the latest firmware for iOS devices is iOS 9.3.2, Apple already released the iOS 9.3.2 ipsw file for public download few days ago. This release includes bug fixes and minor feature enhancements. However, the iOS 9.3.2 update supposedly bricks some of the 9.7 "iPad Pros out there.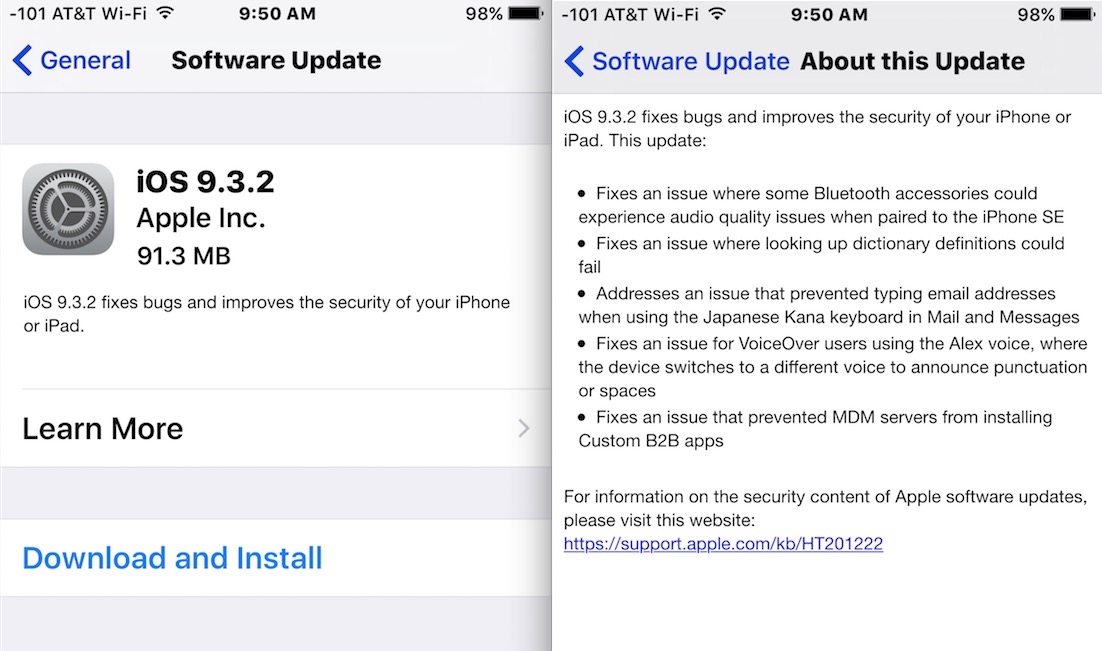 When affected devices install iOS 9.3.2 and restart users are presented with an 'Error 56' code which tells them to connect to iTunes. The problem is connecting to iTunes does nothing, the device is locked and forced reboots only return it the same state.
so temporarily avoid upgrading iOS 9.3.2 firmware on 9.7 "iPad Pro until Apple has rolled out an official fix.
The most obvious change in iOS 9.3.2 is the ability to enable Night Shift mode along with Low Power Mode. Aside from that, other changes are bug resolutions and aim to resolve problems with dictionary definitions, Bluetooth failures, VoiceOver, and a few other problems. The release notes are included below.
• Fixes an issue where some Bluetooth accessories could experience audio quality issues when paired to the iPhone SE
• Fixes an issue where looking up dictionary definitions could fail
• Addresses an issue that prevented typing email addresses when using the Japanese Kana keyboard in Mail and Messages
• Fixes an issue for VoiceOver users using the Alex voice, where the device switches to a different voice to announce punctuation or spaces
• Fixes an issue that prevented MDM servers from installing Custom B2B apps
If you want to upgrade iOS 9.3.2 on other device, you can download iOS 9.3.2 via over-the-air directly on their device. It's fast, it's efficient, and it's simple to do.
Launch Settings from your Home screen.
Tap on General.
Tap on Software Update.
Tap on Download and Install.
If you have limited space on your device or software update isn't working for whatever reason, you can update using iTunes. For users who prefer to update their iOS devices manually by using IPSW files in iTunes, you can download the appropriate firmware file for your iPhone, iPad, or iPod touch from the list below. Right-click and choose "Save As" and be sure the file includes the .ipsw file extension so that it can be recognized by iTunes.
Download iOS 9.3.2 ipsw