SwipyFolders is a new jailbreak tweak for iOS device which brings five new gestures to iOS folder, that lets you perform various tasks in the folder more convenient.
With this tweak you can set different actions such as swipe up to open up a folder, single tap to open the first app, short hold to open the second app and even 3D Touch to see the quick actions of the first app. Of course all of these actions can be customized, so if you want to 3D Touch to open up your folders, that's possible too.
New Gestures:
– Single Tap
– Swipe Up
– Double Tap
– Short hold
– 3D Touch (aka Force Touch)
Every action can be customized to:
– Open folder
– Open first app
– Open second app
– Quick action on first icon (3D touch only)
SwipyFolders tweak now available at Cydia BigBoss Repo for free. Once installed, its preferences pane will be added in Settings app, where you can enable or disable the tweak, set the first icon as the preview of the folder or assign an action for Single tap, Swipe up, Double tap, Short hold and 3D Touch gesture.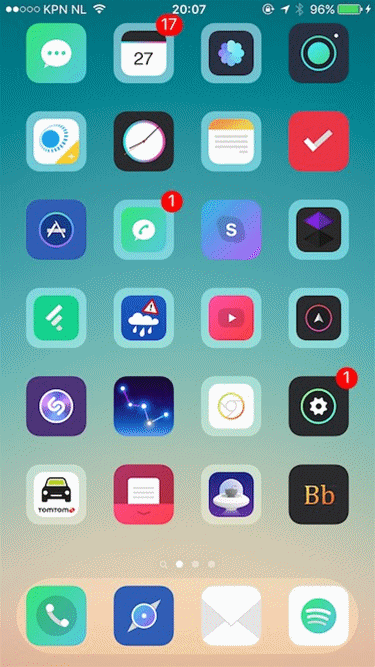 Once you enabled the option for setting the first icon as the preview of the folder then all the folder icons on your Home screen will change to the icon of the first app that they contain. For instance, if one of the folders has Facetime as its first app then the folder icon will change to Facetime's app icon. I personally don't like this option as it makes it hard to differentiate between folders and apps on the Home screen.
Note SwipyFolders v1.0-7 has a bug, where it behaves slow when a double tap action is specified. But the author promised that he would fix that in the next update!