Phenomenon is a new jailbreak tweak that brings a fresh App Switcher with a really innovative and useful design to replace the native App Switcher in iOS. If you're tired of the stock App Switcher and want to find an alternative, then Phenomenon tweak is a great choice worth a try.
The tweak allows you to invoke it using a 3D Touch on the left side, via a menu double press or an activator gesture (which is completely optional). This allows you to either use Phenomenon as a fully replacement or simply as a useful addition to the default Multitasking Switcher.
Phenomenon tweak is now availalbe at Cydia BigBoss Repo for $ 2.99, once you installed it on your jailbroken device, you will experience a brand new App Switcher more efficient than before. The tweak comes with some cool additional features,such as you can remove and close all switcher apps in iOS by long pressing or force touching an app item, or setup Phenomenon to vibrate on invoking the switcher. The tweak built in Control Center to be invoked by swiping up the Home Screen View and you can choose between a smaller Control Center and a full sized Control Center, that lets you access apps faster.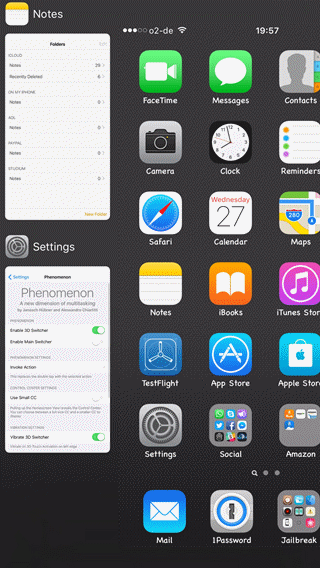 Its author sharedRoutine also promised that he is planning on adding features like "long press / force touch the home screen view to restart the device, and a new animation will be added to open an app from the app switcher.
If you want to experience a different type of Multitasking Switcher with brand new design, then try this alternative on your jailbroken device.