Split View is a very practical feature on the iPad since it launched, which lets you run two apps side-by-side -. Just like you would on your Mac Split View lets you read articles in Safari while composing an email in Mail, enjoy a novel in iBooks while taking notes in the Notes app, and talk to friends via iMessage while organizing your schedule in Calendar. All in all it's very popular.
But unfortunately, this Split View only works on part of iPads, we can not use it on an unsupported device, such as iPhone and iPod touch. So to achieve this, jailbreak developer created a new cydia tweak called "Splitify" that allows iOS users to use Split View feature on all unsupported devices.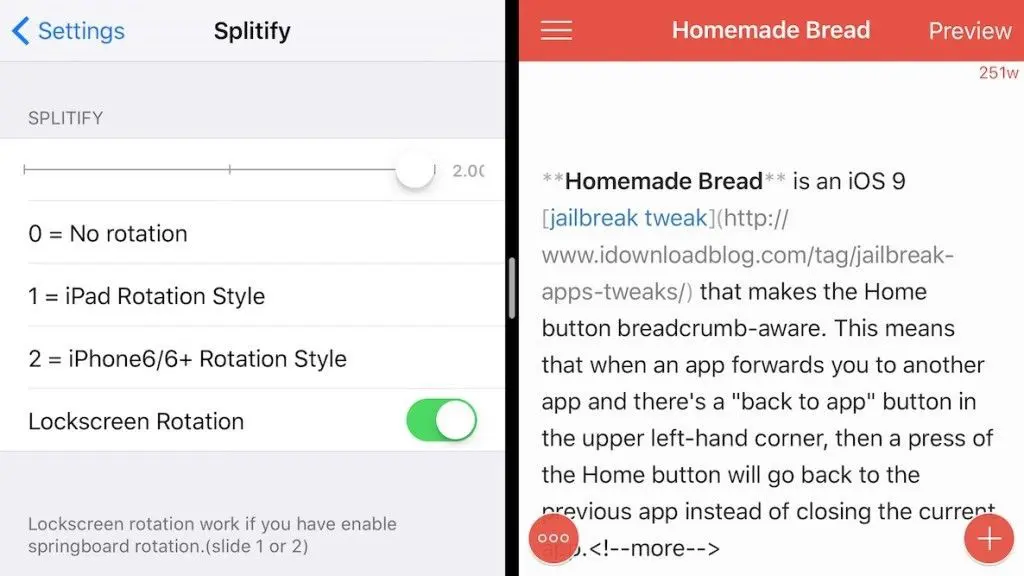 Splitify tweak now available at Cydia BigBoss Repo for free, once you installed it on your jailbroken device, then you can experience the Split View interface at once, simply drag Split View interface from the right edge of the screen, and select another application, so that you will be able to open two applications simultaneously on the same screen. Splitify just brings the Split View ability to more devices.
Course this tweak will be more "meaningful" for iPad users although it can also be used in the iPhone's landscape mode. And I guess no one should want to use Split View in portrait mode, right? Splitify has a special setting panel, where the user can turn on rotating mode.