Thanks for Pangu's timely update, jailbreakers can enjoy the latest jailbreak on iOS 9, another good news is that Cydia Substrate also updated to work with iOS 9, this means you can use your favourite tweaks on iOS 9 soon once the developers updated them. Course before that, you have to jailbreak your device using Pangu 9.
The below is a simple tutorial to teach you how to jailbreak your device running on iOS 9, iOS 9 or iOS 9.0.2 using Pangu jailbreak.
As usual, here are some considerations you sholud read before the jailbreak
Pangu jailbreak iOS 9 currently only works on Windows environment, this menas Mac users can also jailbreak their device by installing a Windows Virtual machine. You can Google search the related tutorials
This jailbreak only works on iOS 9, iOS 9.0.1, iOS 9.0.2.
This is an untethered jailbreak.
You'd better back up all personal information using iCloud or iTunes before jailbreaking.
Disable any Anti-virus programs or firewalls that could prevent Pangu from connecting to the internet.
Once you determine to start jailbreak, just follow the steps posted below.
Step 1: First up, turn off Find My iPhone on your iPhone, iPad or iPod touch. Simply navigate to Settings > iCloud > Find My iPhone and turn off 'Find My iPhone'.
Step 2: Turn off Passcode and Touch ID unlock. To do this, simply navigate to Settings > Touch ID & Passcode and then tap on 'Turn Passcode Off'.
Step 3: Enable Airplane mode on your device using Control Center.
Step 4: Download Pangu 9 for Windows from here: Download Pangu 9 iOS 9 – 9.0.2 Jailbreak For iPhone 6s, Plus, 6, 5s, iPad And More.
Step 5: Connect your device to your computer using the USB cable.
Step 6: Launch the Pangu application your installed on the desktop as an Administrator. Right Click on the Pangu exe and select the "Run as Administrator" option.
Step 7: Now click on Start button in the center for the jailbreak to begin.
Step 8: You will now get another window, tap on 'Already backup' to proceed to the jailbreak.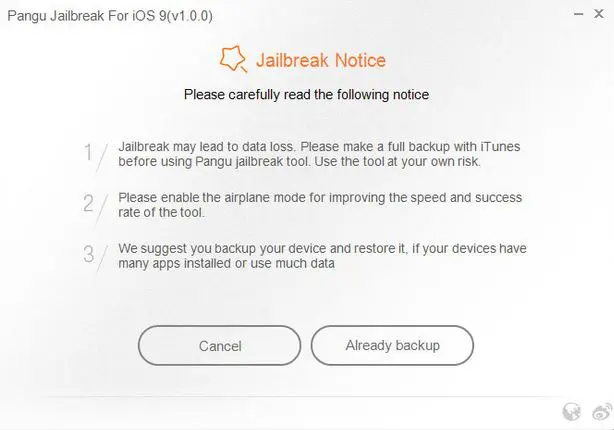 Step 9: During the jailbreak process, it will install the Pangu app with the WWDC app (Interesting!) on your iPhone, iPad or iPod touch. Then your device will automatically reboot after which the tool will ask you to unlock your device and turn on Airplane Mode again. Once you turn on the Airplane Mode again, you will notice the tool will continue the jailbreaking process.
Step 10: At 75%, it will then prompt you to unlock your device, and run the Pangu app on the homescreen. Launch the Pangu app from your device and tap Accept button. When prompted, allow access to your photos.
Step 11: Let the jailbreak process to complete. Once done, your iPhone, iPad, or iPod Touch should reboot. After the reboot, there should be Cydia icon resting on your Home screen.
That's it. Jailbreak is done.
Here's Cydia already running on iPhone 6s, iOS 9.0.2: