We all know A9 chip in the iPhone 6s are OEM by Samsung and TSMC, but both versions have a certain gap in performance and battery life, so that many users have to check if their iPhone 6s or iPhone 6s Plus has a TSMC or Samsung A9 chip
Same with iPhone 6s, the new released iPhone SE also built an A9 chip, and in accordance with detailed hardware information that, iPhone SE also has two different sized A9 processors, Samsung and TSMC.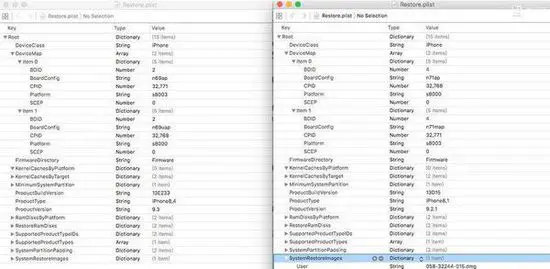 From the above infos you can see different parameters "s8003" and "s8000" in "Platform" column, which is actually fully consistent with the iPhone 6s / 6s Plus, which also represents the iPhone SE comes with both Samsung and TSMC's A9.
S8003 refers to TSMC kernel, and S8000 refers to Samsung kernel, and after testing, TSMC performance slightly better than the Samsung version in performance and battery life.
So presumably you have purchased an iPhone SE, and what to know which version of A9 build in your iPhone SE, then you can follow our tutorial posted before for iPhone 6s to identify your device has TSMC or Samsung A9 chip.
After testing, you can get the following info, or codes, which represent different versions.
mAP – s8003 -TSMC – APL1022 – TSMC
NxxAP – s8000 – APL0898 – SAMSUNG – SAMSUNG
You can also install some hardware detection apps on your iPhone SE, such as "AnTuTu Benchmark".