Also a top-level innovation, the company brought Apple Pencil specifically for the big screen iPad Pro. Which can greatly improve your accuracy of Multi-Touch on iPad, also expand on the versatility of Multi-Touch. You can use it to draw a single pixel line on the screen, you can also adjust the angle and force through force to draw rough lines or smear, not just pencil, it can also become watercolor pen, brush, and so on.
In the event, Apple introduced the pencil with some great applications, such as Microsoft Office and Adobe Photoshop FX.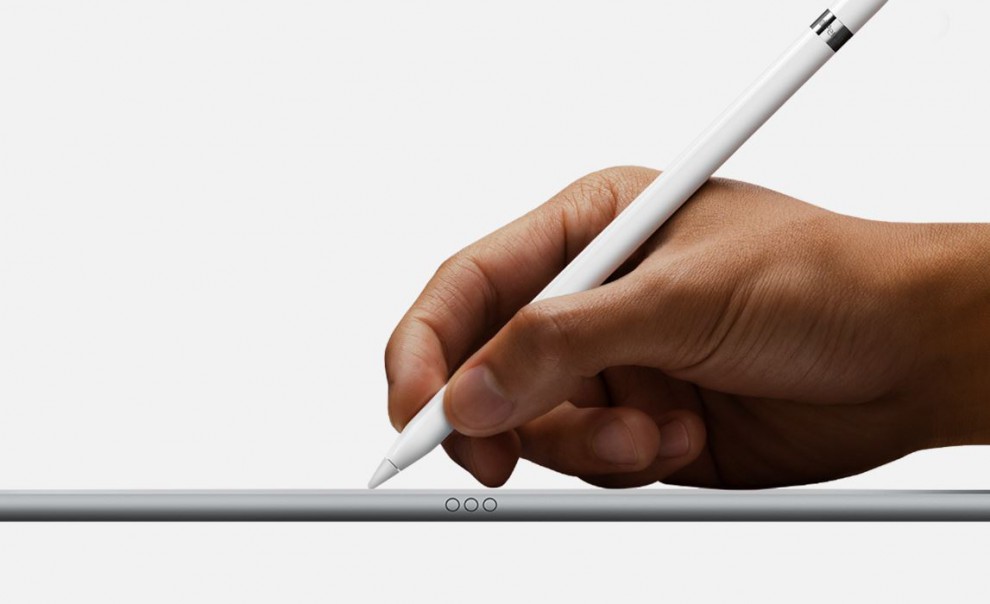 You can use the Apple Pencil to annotate documents in Office. For example, you can circle items in documents, and draw shapes on PowerPoint slides that are directly converted to graphic objects.
You can also freely draw using the stylus in Photoshop FX, to create exquisite works just like on a physical drawing board.
How to Use Apple Pencil
Thanks to those high-precision sensors behind the iPad screen. Apple Pencil with the tiny delay between when you begin drawing and the time it appears on the screen.
When you press down the pen tip with different intensity, you can draw lines with different thickness. Press harder to draw thicker lines. Or use a gentle touch for wispy hairlines.
Two tilt sensors built within the tip of Apple Pencil calculate the exact orientation and angle of your hand. As you naturally write or draw, the relative positions of each of these sensors can be detected by the Multi-Touch display. So you can create shading effects simply by tilting Apple Pencil the way you would a charcoal or conventional pencil.
Apple Pencil with a Lightning connector that lets you charge it simply by plugging it into iPad Pro. Just 15 seconds provides enough charge for half an hour of use. And a full charge gets you 12 hour's worth of scribbling, sketching, annotating, and editing.
The Apple Pencil is going to cost $99. It will be available in November.