Handoff is a very distinctive feature Apple launched for iOS and OS X deivces, which allows you to start one task on your iPhone and pick it up on your Mac, or vice versa. It supports a number of OS X and iOS apps including Mail, Safari, Maps, Messages, Reminders, Calendar, Contacts, Pages, Numbers, and Keynote. But it also supports services within apps like Maps and Safari. Finally, Handoff supports third-party apps as well.
However, all along some third-party web browsers inability to support such a feature.nability to support such a feature. Such as the most popular Google Chrome browser.
Chrome Handoff is a new jailbreak tweak for iOS 9, as the name suggests, it allows you to enable Handoff for Chrome between your iPhone, iPad, iPod touch and Mac.
Chrome Handoff tweak now available free of charge in Cydia's BigBoss repository. If you interested in bringing native Handoff functionality to the unsupported Chrome web browser between your iOS device(s) and Mac, then simple search and install it from Cydia Store on your jailbroken device. After installation, you need reboot your device instead of a respring, so don't be surprised when Cydia asks you to reboot your device.
How to Use Handoff Feature between Mac and iOS Device
First and foremost, and probably obvious, is that Chrome Handoff requires that you have Google Chrome installed on your Mac, as well as on your jailbroken iOS device.
Once you've got Chrome installed on both your Mac and iOS device and Chrome Handoff installed on your iOS device, you can go ahead and make sure you have Handoff enabled on your iOS device and on your Mac.
To do this on your iOS device, launch the Settings app and navigate to Settings > General > Handoff & Suggested Apps, then make sure the Handoff toggle switch is set to the On position: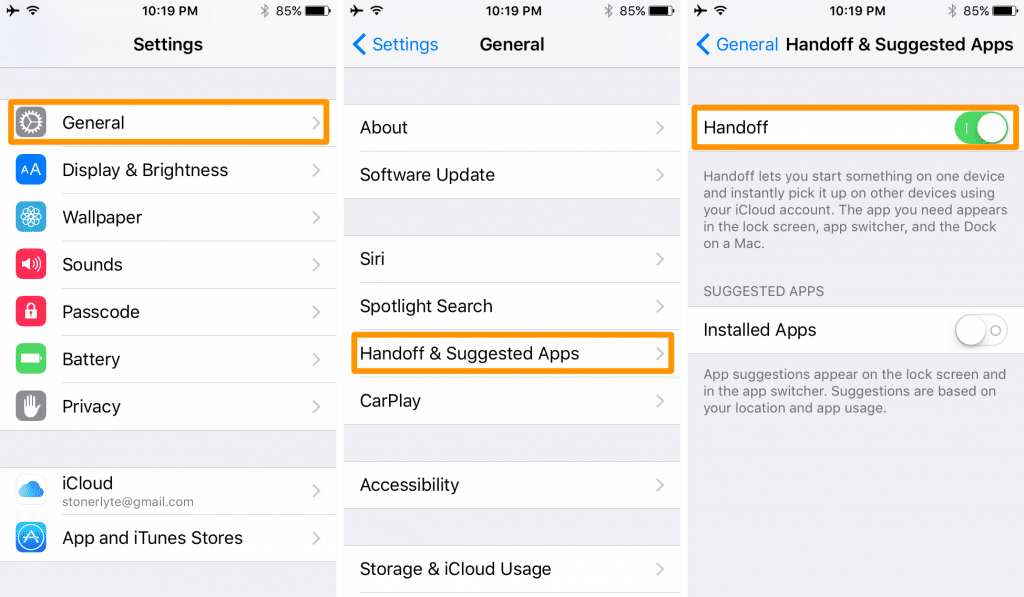 Then enable Handoff on your Mac, launch the System Preferences app from the  menu in your Mac's Menu Bar, and then open the General preferences pane and put a check under Allow Handoff between this Mac and your iCloud devices to enable it:
Once you've enabled Handoff on iOS and Mac, then you should begin to see the tweak take effect immediately.
Handoff will place a Google Chrome icon at the bottom left of the Lock screen when a browsing session can be transferred from your Mac to iOS, and will also be displayed at the bottom of the App Switcher.