Today Snapchat ushered an update to expand its popular Face Swap feature, now you can face swap a photo from your iPhone's Camera Roll by using Snapchat.
"Face swap" is a very interesting feature lets you swap faces with someone (or something) else in real time. Just download or upgrade your Snapchat app on your iPhone to start swaping faces with images stored on your phone's camera roll.
Check out our simple tutorial below for using camera roll photos with face swap.
Course before you start, make sure the photos you want to swaped in the Camera Roll with clearly defined faces,  for Snapchat to recognize your facial features such as eyes, nose and a mouth.
How to Use Snapchat's Face Swap
Download and open the Snapchat app on your iPhone
[appbox appstore id447188370]
Double tap on the camera screen to get it  front-facing, then long-press on your face on the screen until the camera recognizes it.
This way Snapchat will detect your face and bring up various photo filters to choose from. Among the effects, scroll to the extreme left and tap on the purple icon.
Snapchat will look up all the photos that it detects and display them on the screen. Now scroll through the available thumbnails and tap to activate Face Swap with your live image.
To take the picture, simply tap on the purple icon. This is it, your face will be swapped.
if you want to save it to your phone's photo library you'll need to tap the icon in the bottom left corner that looks like a downwards arrow. You can also send it to your Snapchat friends as you normally would via email, on Facebook, on Twitter or elsewhere.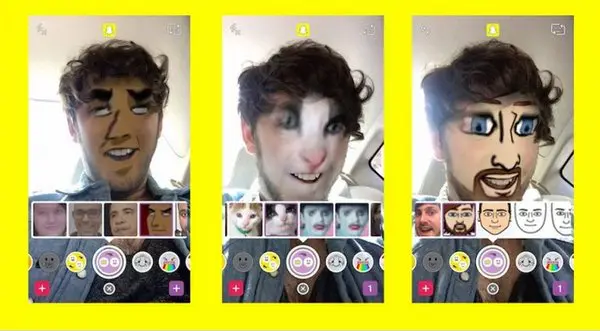 If you want to get the crying Jordan face swap or any other celebrity, just search Google images from your smartphone and save the photo you want to use in your camera roll. It will then come up in your available options on the camera roll.
Snapchat is also abandoning paid Replays in this update, where users could buy additional replays of the same snap via In-App Purchase. This indicating that Snapchat will focus its money-making efforts on advertising instead of in-app purchases.