There always full of a wide variety advertisements when we browsing the web, using apps or playing games on iPhone or iPad, which will greatly reduce our experience, to block these annoying ads, you can download and install some third-party ad blocker from the App Store to block advertisements not only in mobile applications, but also in native mobile apps, including Facebook and even Apple's own News application.
The below are several best ad blocker apps for iPhone and iPad in the iTunes Store.
[appbox appstore id1029747593]
[appbox appstore id1023924541]
[appbox appstore id1030156203]
[appbox appstore id1036484810]
[appbox appstore id558818638]
[appbox appstore id1042501850]
[appbox appstore id1025729002]
[appbox appstore id1011678834]
[appbox appstore id1028871868]
[appbox appstore id691121579]
[appbox appstore id1022177308]
If you do decide to use an ad blocker. Just follow the steps below to get started with your ad blocking and begin taking back control over the content you want to see while browsing the Web in Safari on iOS.
How to Enable Content Blockers in iOS
Content blockers aren't enabled by default, and they take a couple steps to set up:
Download one of the ad blocker from above links on your iPhone or iPad.
Head into Settings > Safari > Content Blockers and enable the blocker you installed.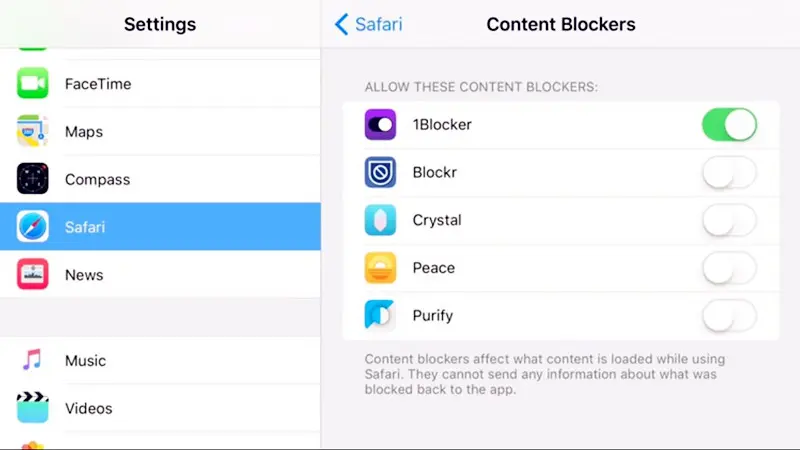 After enabling your preferred ad blocker, now you can enjoy your iPhone and iPad without any ads and pop ups for a better experience, just browse the Web in Safari as you normally would. No need to do anything special therein and no need to alter your browsing habits to activate content blocking. When you visit a page, Safari automatically loads it up minus ads and other page elements which you've configured to be blocked.