iPhone SE definitely inherited the advantages of the small screen, but it also has a fatal flaw user often make mistakes when typing text on a 4-inch screen. Although the stock Keyboard app in iOS has provided near-perfect features, but also not enough for those require high efficiency typing.
To overcome this limitation, the following are several popular third-party keyboard apps for the iPhone SE, hopes one of which can help you to improve the typing efficiency.
[appbox appstore id911813648]
SwiftKey advantages in its associative input, when the user enters the first letter, the app can immediately predict the next word and the entire letter based on the forecasting models and user habits.
[appbox appstore id1020956821]
Slash is definitely a super great intelligent helper that makes it easy to share links and other information without switching apps. Just tap the forward slash (/) on your keyboard to access partners like Foursquare, Stickers, YouTube, Contacts, Genius, Google Search . and Maps and others Slash is integrated with a total of 15 apps, including Giphy – its launch partner.
[appbox appstore id520337246]
Fleksy is the only keyboard that allows you to find and send GIFs, and customize your keyboard with powerful Extensions and beautiful themes.
[appbox appstore id917932200]
Another GIFs Keyboard lets you search through millions of animated GIFs, some with music, and some without.
[appbox appstore id916365675]
Swype is a very good one-handed input solution, that allows you to type with one hand, using a swipe motion to hit the keys you need.
[appbox appstore id1096760900]
Hub Keyboard is Microsoft's first keyboard for iOS, that lets you stay in context by bringing information from different services to your fingertips and help complete your tasks faster. Sign in with your Office 365 work or school account to unlock access to more information.
[appbox appstore id962973848]
Access over 10,000 emoji and manage over 100 emoji keyboards all from one app. Moji Keyboard is the #1 emoji keyboard app delivering fresh new emoji content all the time. Browse from the world's largest emoji library or search through thousands of amazing icons.
[appbox appstore id978201325]
Thumbly keyboard also designed to be used with one hand. Thumbly's keys are ergonomically arranged and are easily reached with one thumb using a comfortable side-to-side motion.
[appbox appstore id912651227]
TouchPal Keyboard can also greatly improve your typing speed, features gesture / swipe input, sliding input, keyboard themes, and Emoji.
[appbox appstore id919359310]
This keyboard app lets you add animated GIFs to your conversations.
[appbox appstore id916976066]
Phraseboard offers phrases for almost every kind of conversation, whether it be with personal friends, colleagues from work, or your family. The keyboard's mission is to help you send typical responses to messages without having to type the same response over and over again.
[appbox appstore id929423549]
Slated is an alternative keyboard that automatically translates whatever you type into another language. The app works with the regular SMS, iMessage, WeChat, KakaoTalk, Kik, WhatsApp, Line, Facebook Messenger, Viber, Skype, and other messaging apps.
[appbox appstore id908842747]
Themeboard allows you to customize your keyboard with the world's best theme designers, wallpapers, and keyboard themes.
[appbox appstore id924332344]
DrawType is a Keyboard Extension that allows you to draw images and paste them into apps that support text and images like, Messages and Mail. Use DrawType to reply to friends when a hand drawn picture might be quicker or more personal than text.
[appbox appstore id914968934]
Minuum is the best keyboard for typing comfortably on big phones. One-handed mode is always a tap away, and Minuum in landscape mode lets you see your whole screen. With dozens of beautiful themes, Minuum is the most customizable smart keyboard on the app store.
How to install third party keyboard
Step#1 Open Settings app on your iPhone SE
Step#2 Tap on General
Step#3 Scroll down and tap on Keyboard
Step#4 Now Click on Keyboard, and then tap on keyboards.
Step#5 Now tap on Add New keyboard.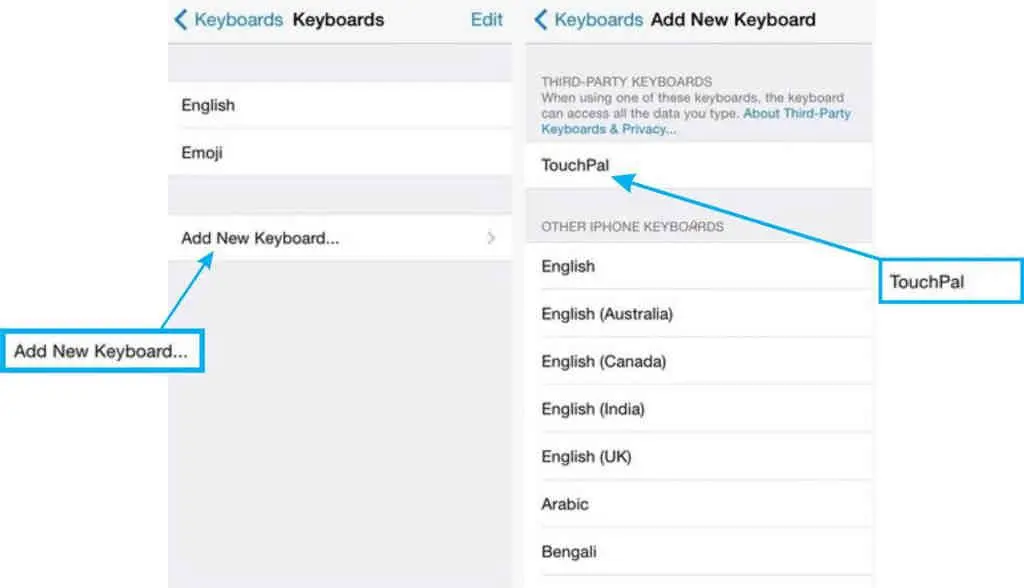 Step#6 Select and tap on the third party keyboard
(Sometimes, you would be given some sub-categories to select in some keyboard options. So, you have to tap on the sub-category you need)
Step#7 Tap on Edit
Step#8 Drag the third party keyboard to the top using the sort-handle.
Step#9 Tap on Done
Now added in keyboard list for future use, you will be able to swap any time from the keyboard bottom button.
You can switch to a different keyboard while you're using an app. Just select the text field within the app. When you see the keyboard, you can tap the Globe icon to cycle through the available keyboards. The process to switch keyboards varies with different third-party keyboards.