This week developers successively received the first batch of Apple TV for testing, they also revealed more details about this product.
Developer Steve Troughton-Smith tweeted that when you pick up the Apple TV's remote, the TV will wake up itself. In addition, the old remotes also applies to the new Apple TV, even though unable to start Siri as the button lacked, th remote can be used to navigate within tvOS.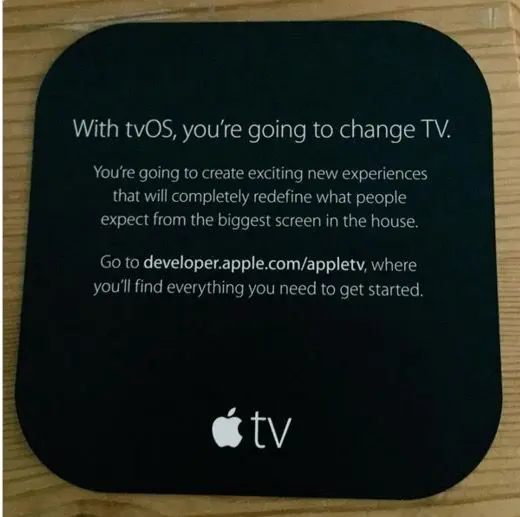 Another developer James Addyman created an emulator for classic games called Provenance on Apple TV, which supports Sega Genesis, Master System, Mega CD, NES, SNES, Gameboy, and the Gameboy Advance games, but the chances of this simulator available at App Store are slim. Addyman said currently the Provenance emulator is not stable enough, in addition how to use the new remote buttons to play the games mentioned above also is a big problem, as the new new remote only has one physical button for input.
Below are more known details about the Apple TV 4
A special opportunity
The Apple TV 4 dev kits are different than what we'll see when the product hits retail shelves later this fall. These kits have special wording on the box denoting their developer-centric use, and contain liner notes highlighting it as well.
Side-loading apps
As we posted earlier, one of the most exciting bits of news to come out today was the presence of the Provenance multi-emulator running on the Apple TV dev kit. You can read our full post about Provenance here. Thanks to Xcode 7, users will be able to side load apps on to the Apple TV.
Siri Remote
To be fair, the trackpad can be used as a button as well, you just need to press on it. Though, I do understand where he's coming from, as it's certainly not the most ideal setup. That said, I still believe that Apple made the right move by requiring Siri Remote support. Remember, developers can include an alternative control scheme that's better suited for third-party controllers, they just have to make their games playable with the Siri Remote as well.
Glass trackpad
Another note, one that was actually brought out during the very first unboxing video of the Apple TV 4th-gen, is with regard to the trackpad on the surface of the Siri Remote. Troughton-Smith confirms that there is a glass layer covering the trackpad surface. This makes sense when you consider that Apple uses a glass layer in its award-winning MacBook trackpads.
via: idownloadblog