Today, Microsoft released the Office 2011 14.6.3 for OS X, in addition to some routinely security updates for the Mac, the new Office also fixed a critical security vulnerability that "Allow Remote Code Execution."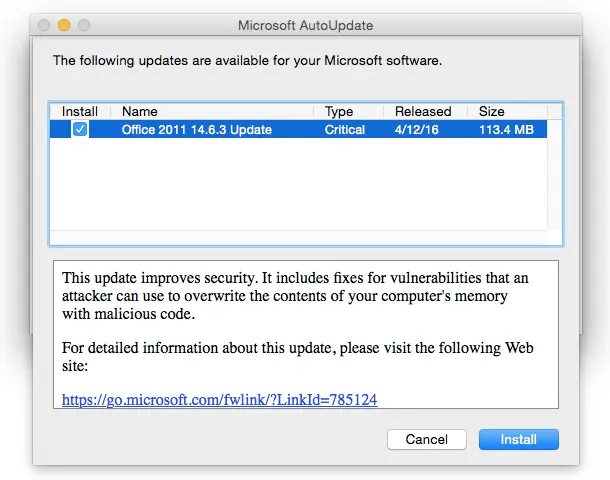 Previously attacker can use malicious code to rewrite the contents of RAM, now this vulnerability been fixed. This fix also contained in update of the Microsoft Word for Mac 2011 and Microsoft Word 2016 for Mac.
According to Microsoft's official website files revealed that the update can be applied to Office 2011、Office 2011 Home and Business Edition, Word 2011, Excel 2011, PowerPoint 2011, Outlook 2011, Office for Mac Standard 2011 Edition, Microsoft Office for Mac Home & Student 2011 and Microsoft Office for Mac Academic 2011。
Supported operating systems
OS version: Mac OS X 10.5.8 or later.
Although the OS X built iWork suite, but there are still many users love to use Microsoft Office on the Mac, if your Office suites also have the issue as described above, then you may wish to download the latest upgrade package, visit Microsoft official website (link).