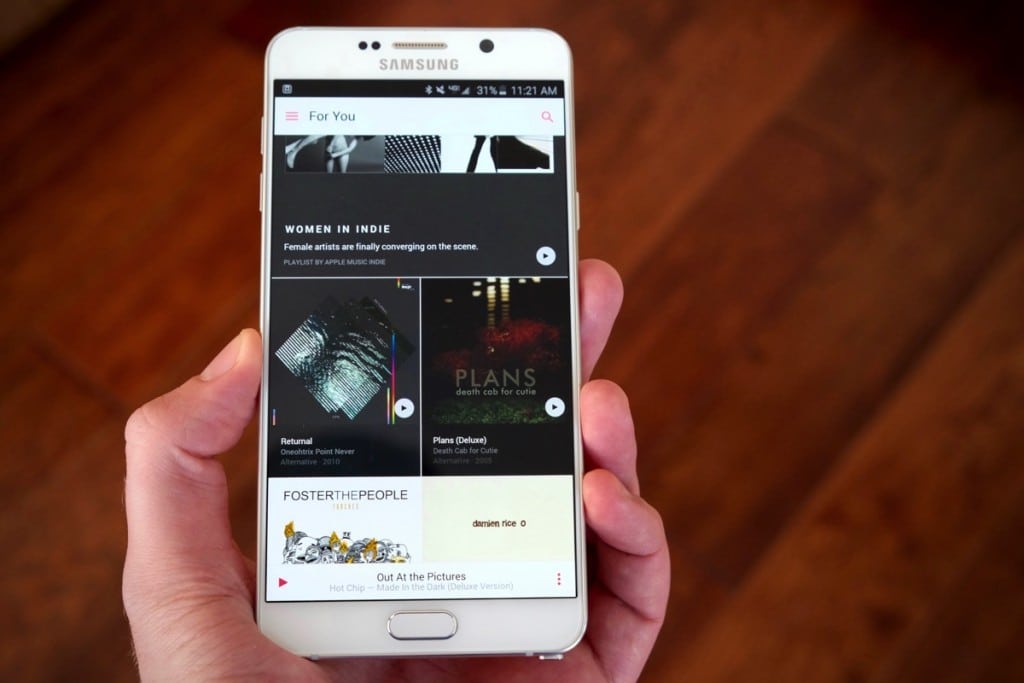 Today, Apple Music apk for Android platform ushered in an important update with a much-needed new feature: the Android user can directly download and save songs to the removable SD card storage for offline listening.
The update also adds a full schedule for Beats 1 Radio, and adds new options to My Music that allows users to navigate Compilations and Composers.
What's news in Apple Muisc v0.9.5
This update adds downloading songs to an SD card, so you can now keep more music offline. You can also:
• See the full schedule of Beats 1 shows, making it easy to tune in to your favorite ones.
• Browse My Music by Composers and Compilations, which help you find music your classical albums or movie soundtracks.
Apple Music is still very much in beta on the Android platform, but it works entirely the same as the iOS counterpart, allowing users to stream music off of Apple's online catalogs for a monthly price of $9.99. Android users also get the same 3-month free trial option that Apple users have, which is a plus for anyone wanting to try it out before they buy.
If you're using an Android smartphone, and are interested in to experience Apple Music, just download the apk from the Goolge Play Store for free.
Apple Music
Teen
Item removed from wishlist.
Listen to all the music you want, anytime. Plus get curated radio & playlists, recommendations for you, exclusives, and more. Subscribe to Apple Music and try it free for three months.
Features:
• Enjoy over 30 million songs from the Apple Music catalog.
• Explore thousands of playlists for any genre or activity, created by expert curators with a passion for music.
• Get recommendations for playlists and albums based on the music you love. 
• Add your favorite music to your library and access it on all your devices.
• Hear your favorite artists & DJs from around the world on Beats 1.
• Tune in to on-demand, curated radio stations, and hear more of the music you want.
• Availability and features may vary by country. Membership renews monthly after trial.
Reviews
Liam MacLeod
Has it's bugs sometimes but..
It's honestly one of the best music streaming apps on android. It also dynamically changes bitrate depending on if you're on WiFi or Cellular data which definitely has saved me quite a bit of money. Also, the ability to download songs/albums for offline play is amazingly useful. The UI is also one of the best I've seen for a music app which is a nice touch. There are a few bugs I've encountered but they seem to rarely happen.
Adrian F.
Good but very bright interface
Putting that 3.5mm jack to good use. Seriously, though, I checked out Apple music when it first launched and the Android client came along. Frankly, it sucked and I continued to use Spotify, especially because I had a student discount. Fast forward to Fall 2016 and I find out that there is a student discount available for Apple music, too so I check it out and I'm surprised how far the platform has matured - even on Android. I hope Apple continues to support this app/service on Android. Just: dark mode pls
Sharad Chandra
For lack of better alternative!
UI is slow and lags at time. The app sometimes takes an eternity to fire up. There is no option to deauthorize devices from app, has to be done from iTunes. And for that, one has to log out from app which will delete offline music. Yes, it definitely has an amazing collection and good recommendations. Not to forget option to save to sdcard. Spotify is miles ahead in all aspects, only if it was available in India.
Samuel de Boer
Download issues
Ive been having an issue. (right now with the sum 41 13 voices album) everytime i try to download the album it will only download 2 of the songs and will ignore the rest. When i try to do it individually the download wont even start. Please fix this. I love this album, i just want to listen to my music without this fuss
Ed Manning
Good content but has problems playing music
Quite simply a music player should be able to play music, and if every other player can do it without pausing several times in a song, or giving up two or three songs through a play list so should Apple. I like the way it suggests music, but I can't Chromecast. If you are going to be on Android, do it properly. The music issues should be fixable, Google, Deeper, Spotify can do it, but if Apple won't support Chromecast, then I wouldn't pay for it.
Rhys Blythe
Good overall, a few kinks.
All in all the app works fairly well. However, if you set the download destination to sd card, audio will then refuse to download. The page will start and the app will tell you it's about to, but it then seems to seize. Once this is sorted it will be a great app. Update 1/10/2016 - for some reason, the app will no longer download songs to my device. Still reasonably impressed overall but this bug could be a make or break for me.
What's New
This update includes minor app and performance improvements.
Additional information
Updated
September 15, 2016
Installs
10,000,000 - 50,000,000
Requires Android
4.3 and up
Interactive Elements
Digital Purchases